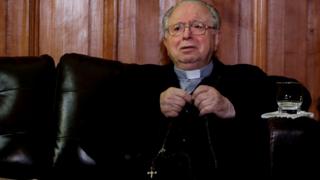 Pope Francis has eliminated the priest on the centre of Chile's clerical intercourse abuse scandal.
In a press release, the Vatican stated the pontiff had defrocked Fernando Karadima for "the nice of the Church."
The 88-year-old former priest had beforehand been sanctioned to a lifetime of "penance and prayer" for having sexually abused minors.
In June, the Pope accepted the resignations of three Chilean bishops within the wake of the scandal.
Karadima was discovered responsible of abusing teenage boys over a few years in a Vatican investigation in 2011. He was not faraway from the Vatican at the moment and denies wrongdoing.
He was not topic to a felony prosecution in Chile due to the nation's statue of limitations.